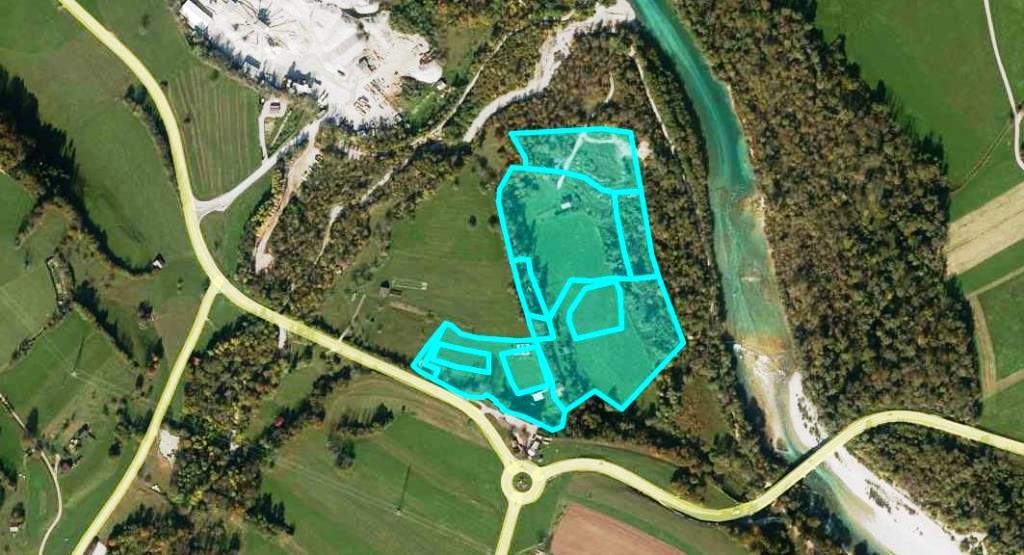 Property Details
Tolmin
,
Primorska
Commercial
Price € 278.400
Description
Large piece of land with lots of potential - Tolmin
- Tolmin
Primorska
For sale: Building plots, objects and agricultural land with potential for tourism (camping); Total surface of plots: 46,819 m²; Building area: 1,770 m²; Land use: building land and agricultural land. Town: Tolmin; Municipality: Tolmin; Province: Primorska. 
lap
The land consists of 11 connected plots with a total surface of 46,819 m². Located about 1 kilometer from the town of Tolmin. The surface of the building area is 1,770 m². The lands consists of meadow, surrounded by forest. The forests are not protected and may be cut down. The ground is flat and is divided on two levels and borders the emerald Soča river over a length of 250 m. The other side of the plot borders the public road. From the public road several entrances to the lots are possible. There are also several access possibilities to the river. A dirt road runs parallel to the river. The property has its own water supply and its own electric power. On the ground are two (new) agricultural facilities of 150 m² and 48 m² and two older buildings of 89 m² and 47 m². Although the lots are positioned on the main road it is still a quiet location with lots of privacy. Ideal for the exploitation of water sports activities, for tourism (camping). The municipal zoning plan indicates that changes to the current agricultural status of the land can be made. A status change into commercial land intended for tourism and recreation is conditionally acceptable. To officially change the status of the land for tourism activities, a few more procedures are required. All lots are free of charges and / or debts from third parties.
Pros:
– 1,770 m² of building land, total area of 46,819 m²;
– 11 connected plots; multiple objects;
– All infrastructure runs to the plots;
– suitable for tourism, water sports activities and / or camping;

– At 1 kilometer – walking distance – from the town of Tolmin / on the Soča river;

– Nearby Italy;

– The capital Ljubljana: 1 hour and 30 minutes drive;

– Adriatic coast: 1 hour and 10 minutes drive;

– Croatia (Istria): 2 hours drive;

– Austria: 1 hour and 30 minutes drive;

– Triglav National Park: 5 minutes drive;

– On local (main) road;

te koop