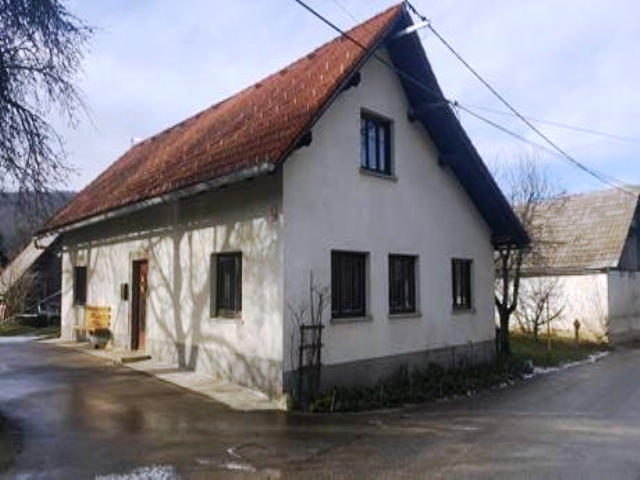 Property Details
Tisovec
,
Dolenjska
Price € 135.000
Description
Farm, outbuildings, garage, agricultural and building land - Tisovec
House
- Tisovec
Dolenjska
Te koop: Boerderij bestaande uit een woning (146 m²) met stal (90 m²), 2 bijgebouwen van 114 m² en 24 m², een ruime garage (82,4m²) en een enorme lap agrarische grond van 398.578 m² in het dorpje Tisovec. Totaal oppervlak grond: 398.578 m²; Gemeente: Potiskavec; Dorp: Tisovec; Provincie: Dolenjska; Gebouwd in: 1850; Laatst gerenoveerd: 2001.
Een vrijstaande boerderij (146 m²), met bijgebouwen, een garage en een grote lap agrarische grond midden in het mooie rustige dorpje Tisovec. De boerderij beschikt over een kelder (16 m²) en heeft een eigen (drink)watervoorziening. Onder de weg die voor de woning loopt zit de waterleiding. Er is geen centrale verwarming, verwarming gebeurd door het stoken op hout of elektrisch. Het totaal oppervlak van woning is 146 m². Het totaal oppervlak van de – voor het grootste deel – agrarische grond is bijna 40 hectare (398.578 m²). De woning heeft elektriciteit en is bewoonbaar maar heeft een upgrade nodig. Tisovec is een klein dorpje in de gemeente Potiskavec. Het dorpje heeft rond de 30 inwoners. De plaatselijke kerk is opgedragen aan de heiligen Petrus en Paulus en behoort tot de parochie van Struge . Het is een middeleeuws gebouw dat uitgebreid herbouwd werd in het midden van de 18e eeuw. Het dorpje ligt op 40 minuten rijden van de hoofdstad Ljubljana en het ligt centraal in Slovenië. Op 30 minuten rijden ligt het kuuroord Dolenjske Toplice. rijden ligt het kuuroord Dolenjske Toplice – real estate slovenia – slovenievastgoed
Kenmerken object:
Colnica
– Provincie: Ljubljana en omgeving (Dolenjska);
– Elektriciteit: Ja;
– Centrale Verwarming: Nee (op hout/elektrisch);
– Kadaster registratie: Ja;
– Gemeubileerd: Nee;
– Kenmerken gebied: Nabij hoofdstad Ljubljana, Kroatië op 1 uur rijden, nabij de oerbossen van Kočevje, nabij kuuroorden.