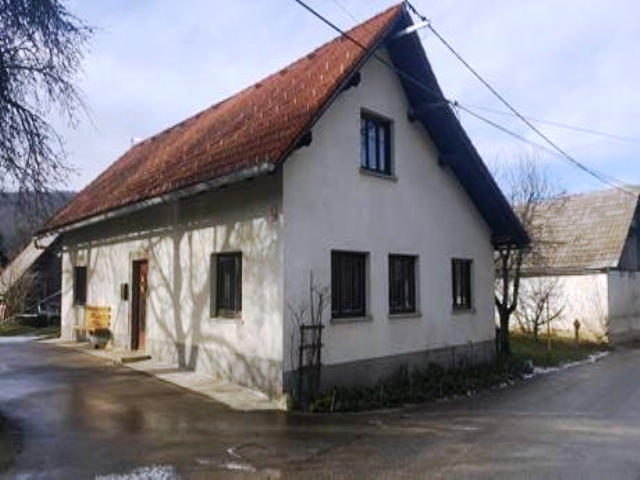 Property Details
Tisovec
,
Dolenjska
Price € 135.000
Description
Farm, outbuildings, garage, agricultural and building land - Tisovec
House
- Tisovec
Dolenjska
For sale: Farm, consisting of a house (146 m²) with stable (90 m²), 2 outbuildings of 114 m² and 24 m², a spacious garage (82.4 m²) and a huge piece of agricultural land of 398.578 m² in the village of Tisovec. Total surface area: 398,578 m²; Municipality: Potiskavec; Village: Tisovec; Province: Dolenjska; Built in: 1850; Last renovated: 2001.
A detached farmhouse (146 m²) with outbuildings, a garage and a large patch of agricultural land in the middle of the beautiful quiet village of Tisovec. The farm has a basement (16 m²) and has its own (drinking) water supply. Under the road that runs in front of the house is the water pipe. There is no central heating, heating is done by burning on wood or electric. The total area of ​​the house is 146 m². The total surface area of ​​the – for the most part – agricultural land is almost 40 hectares (398.578 m²). The house has electricity and is habitable but needs an upgrade. Tisovec is a small village in the municipality of Potiskavec. The village has around 30 inhabitants. The local church is dedicated to Saints Peter and Paul and belongs to the parish of Struge. It is a medieval building that was extensively rebuilt in the middle of the 18th century. The village is 40 minutes drive from the capital Ljubljana and it is centrally located in Slovenia. The spa town of Dolenjske Toplice is a 30-minute drive away. rijden ligt het kuuroord Dolenjske Toplice – real estate slovenia – slovenievastgoed
Features object:
Colnica
– Province: Ljubljana en omgeving (Dolenjska);
– Electricity: Yes;
– Central heating: No (on wood/electrical);
– Cadastre registration: Yes;
– Furnished: No;
– Features of the area / other comments: Near the capital Ljubljana, Croatia: 1 hour drive, Near the primeval forests of Kočevje, Near spa.