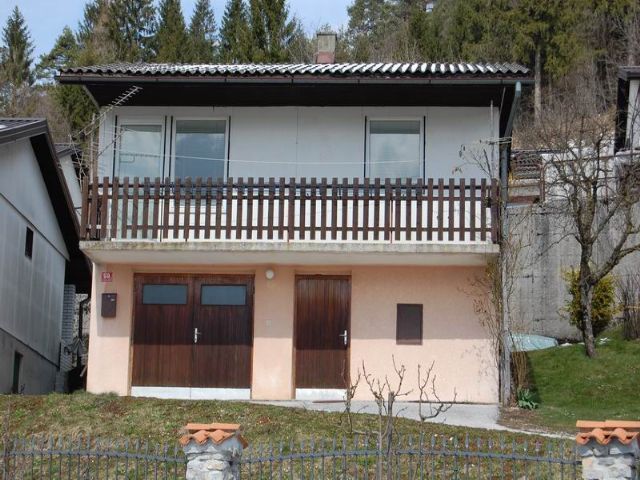 Property Details
Breginj
,
Primorska
Price € 48.000
Description
Detached home in Nadiza valley - Breginj
House
- Breginj
Primorska
For sale: Detached house with a surface of 118,80m² on 309m² of land in the village of Breginj (Nadiza valley); Built in 1976; Surface property: 118,80m²; Lot size: 309m²; Village: Breginj; Municipality: Kobarid; Province: Primorska.
for sale
A detached house in the center of Breginj. Breginj is a village in the Breginjski Kot Natural Park and in the heart of the Nadiza Valley. The house was built in 1976. The property has a net living area of ​​118.80m² – divided over two floors – and it stands on a spacious and sunny plot of 309m². There is enough space on the plot to add a garden house or an annex. The property has an open terrace (14.80m²), a balcony (8.80m²), a garage (15.70m²), a room for the heating installation, and a cellar / storage area (16.80m²). This beautiful natural area is more and more influenced by tourism development. It is only 11.5 hours drive from the Netherlands / Belgium. Several international airports are nearby. The border with Italy is within walking distance and also Austria, the Julian Alps and the Adriatic Sea are not that far away. The property is located near the river Nadiza (Natisone in Italian). In Breginj there is a supermarket / post office, a museum, rental apartments and a bar. The Nadiza is a mountain river that warms up on hot summer days and it is – in contrast to most of the other rivers in the area – a river to swim in. The Nadiza Valley is especially popular with paragliders, sport fishermen, mountain bikers and other (extreme) outdoor sports fans and lovers of nature. The climate is Pre-Alpine with warm summers and mild winters. The historic town of Kobarid, the ski area of ​​Bovec (Kanin-Sella Nevea), Tolmin, the Soca valley and the Triglav National Park are a 15-30 minute drive. for sale
Features object:
Region: Primorska.
Electricity: Yes;
Water supply: Yes;
Sewage: Yes;
Central heating: Yes;
Habitable: Yes;
Telephone connection: Yes;
Furnished: Yes;
Kadaster registration: Yes;
Energy classe: D (83 kWh/m2a)
features area / other comments: In the natural park of Breginjski Kot / Near the border with Italy / By the river Nadiza / On walking distance the local supermarket – post office / Opportunities for tourism – Rentals.