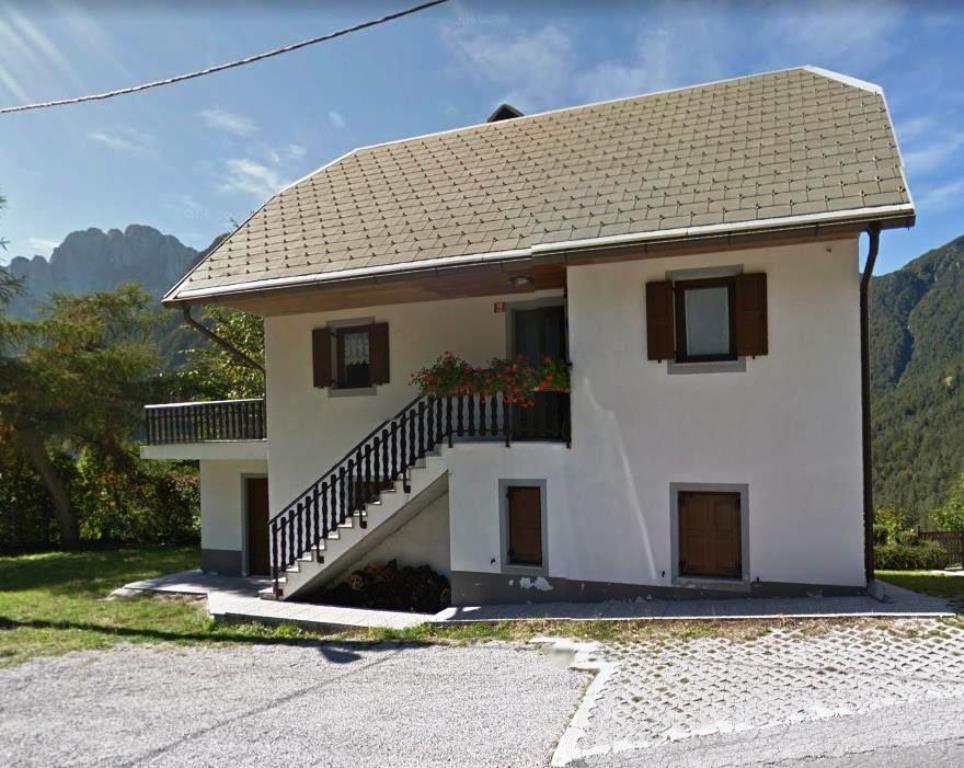 Property Details
Strmec na Predelu
,
Primorska
Price € 165.000
Description
Detached house with garden/garage - Strmec on Predil
House
- Strmec na Predelu
Primorska
For sale: Detached house (226.80 m²) with three bedrooms and a garden on a plot of 162 m². Close to the Slovenia / Italy border crossing in the village of Strmec on Predil; Municipality: Bovec; Region: Triglav National Park; Province: Primorska; Built in: 1990; Renovated in: 2001; Surface area: 226.80m²; Surface area: 162m².
In the idyllic mountain village of Strmec on the Predil Pass, close to the town of Bovec and close to the border with Italy, this detached house (226.80m²) with garden is situated on a 162m² lot. This spacious home has 3 bedrooms and was renovated in 2001 to serve as a holiday home. The attic is therefore not yet finished. A beautiful view of the Julian Alps makes this location truly unique. The property is located in the heart of the Triglav National Park, one of the most beautiful national parks in Europe. The village is located in the high mountains but is – also in winter – very easily accessible. The house has three floors: ground floor, 1st floor and an attic floor. A very comfortable (holiday) stay just 14 minutes from Bovec, where the Kanin – Sella Nevea ski area is located. Twenty minutes away is the Italian town of Tarvisio with its own ski resort and 30 minutes away is Arnoldstein in Austria with various ski resorts, including the Dreiländereck and Hermagor ski areas. The Lago del Predil Lake is just a 5-minute drive away. The connections to the house: electricity, village water supply, heating on wood, boiler and septic tank. The good rental possibilities at this location make this property a great investment for this price!
The layout of the building is as follows (in m²):
– Ground floor: garage 16.6; front chamber 7.2; living room 14.4; dining room 7.3; kitchen 7.8; front chamber 2.2; bedroom 1 9.6; children's room (bedroom 2) 7.2; toilets 3.1; Total area 75.4 m².
– 1st Floor: outdoor hall 2.5; front room 4.4; antechamber 3.4; living room 15.8; terrace 17.8; dining room 6.4; kitchen 5.3; anteroom 3.7; bedroom 3 12.0; sanitary facilities 4.2; storage 3.0; Total area 78.5 m².
– The unfinished attic has an area of ​​57.0 m² and can possibly be made habitable to your own taste.
The property is in the name of 1 owner, is completely debt / tax-free and has a Land Registry. te koop
Features object:
Te koop: Huis met tuin. Gerenoveerd : Huis met tuin. Gerenoveerd in:
– Province: Primorska;
– Electricity: Yes;
– Water supply: Yes;
– Sewage: Yes, septic put;
– Central heating: No, on wood;
– Furnished: Yes, (see photos), takeover in consultation;
– (Satellite) TV: Yes;
– Habitable: Yes;
– Land Registry registration: Yes;
– Energy class: In application;
– More pictures on the Dutch version of this page;
– Other features / remarks: Near the border with Italy (5 min.) / Ski resorts Kanin-Sella Nevea and Tarvisio at 15-20 minutes drive / In the Triglav National Park / Coast at 2 hours drive / Austria at 30 minutes drive / The capital Ljubljana at 1.5 hours drive / Croatia: 2.5 hours / At 5 minutes drive from the lake Lago del Predil / Rental possible.