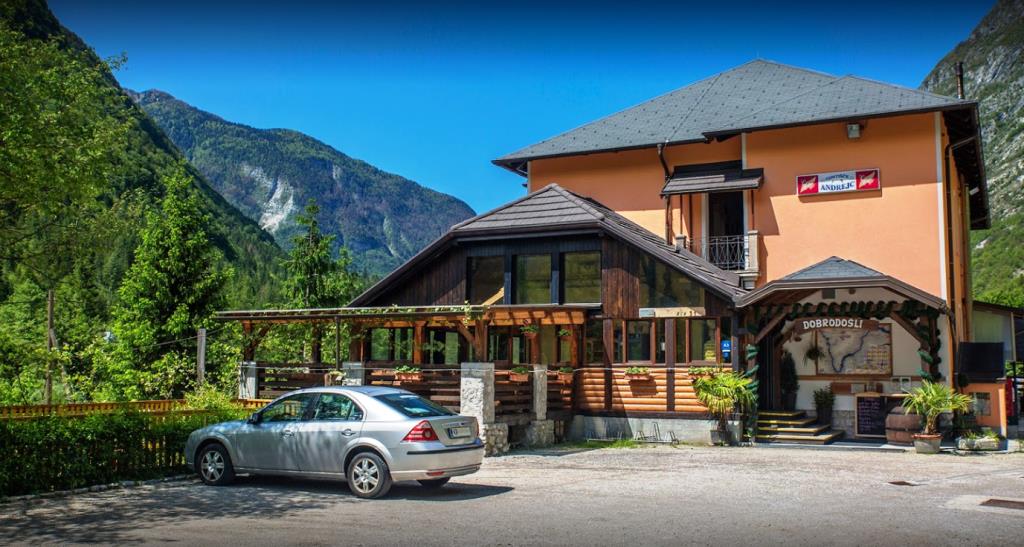 Property Details
Soča
,
Primorska
For Sale

€ 430.000
Hotel/Leisure
Description
Active business premises / Inn with restaurant - Soča
Hotel/Leisure
- Soča
Primorska
For sale: A charming guesthouse / business space on the main road Bovec-Trenta-Kranjska Gora in the Triglav National Park. Place: Soca (municipality: Bovec). Province: Primorska; Surface area: 437.60 m²; Surface area: 1,350 m². Surface of adjacent plots: 1,517 m²; Built in: 1932; Last renovation: 2005.
This attractive guest house is for sale in the village of Soca in one of the most beautiful regions of Slovenia – the Triglav National Park. The business is active and suitable for the hospitality industry (tourism). It stands right on the Soca River and is located on the main road of Bovec-Trenta-Kranjska Gora. The village of Soca is surrounded by the impressive mighty peaks of the Julian Alps. The guesthouse is located between the large and small canyons of the emerald green Soca river. The property has a basement of 16.10 m². There are 4 double rooms, 1 room for 3 people and 1 room for 4 people, each with its own bathroom. The guest house can receive large groups of up to 100 people. Furthermore, bicycle rentals, walking tours and numerous other sporting activities are also offered. There is a large parking space for cars, campers, bicycles and motorbikes.  te huur
Features object:
– Province: Primorska;
– Electricity: Yes;
– Water supply: Yes;
– Sewage: Yes;
– (Cable) television: Yes;
– Telephone: Yes;
– (Cable) Internet: Yes;
– Central heating: Yes;
– Furnished: Yes;
– Habitable: Yes;
– Land Registry registration: Yes;
– More pictures on the Dutch version of this page;
– Characteristics area: Municipality of Bovec / In the Triglav National Park / On the Soča river (Soca valley) / Near Kanin-Sella Nevea ski area / Historical area.