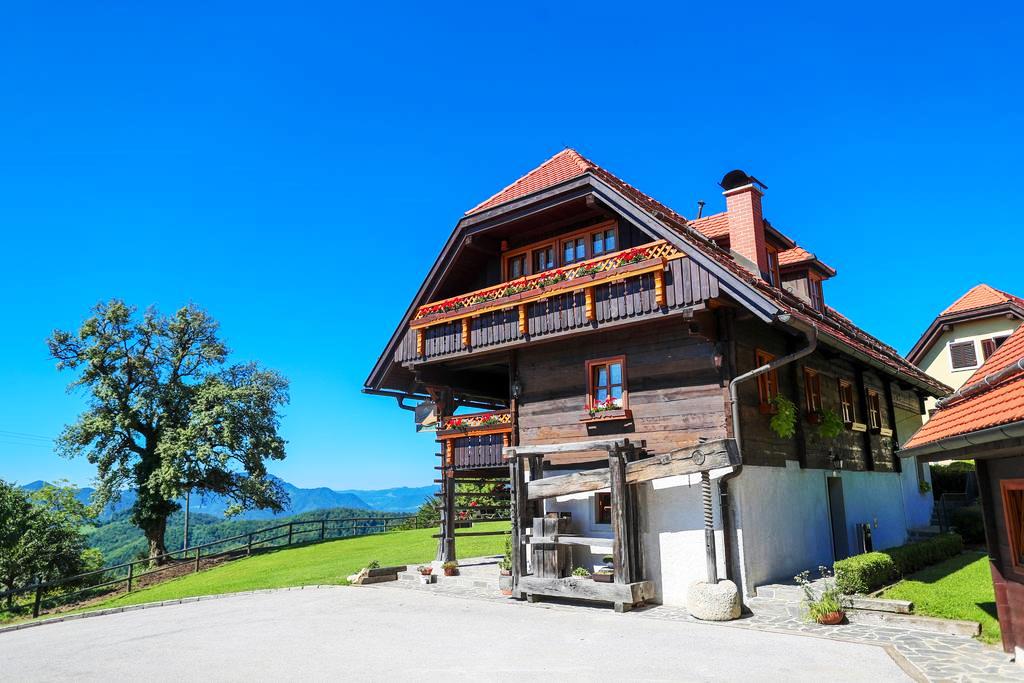 Property Details
Lasko
,
Stajerska
Special Offer!
Hotel/Leisure
Description
Holiday resort / tourist farm near spas - Stajerska
Hotel/Leisure
- Lasko
Stajerska
For sale: A 4 star rated Holiday Resort / Tourist Farm estate in traditional style with unique accommodations, beautiful views, a pool and wellness facilities. Located on a hill at an altitude of 650 meters surrounded by nature, tranquility and clean air and near several spas. Municipality: Laško; Province: Stajerska; Total surface of objects: 514.6 sqm.; Land area: 56,867 sqm.; Built and rebuilt in: 1900 and rebuilt 2003-2018.
Here is a chance to take over an already existing company in the agro-tourism sector in Slovenia. A unique holiday resort / tourist farm with quality accommodations rated with four stars. Not far from the famous spas of Lasko and Rimske Toplice.
What immediately strikes one when arriving to this property is the very sunny southwest location and the beautiful panoramic views. The estate is easily accessible all year round. The resort consists of a total of more than 6 hectares of land, consisting of meadows, forests, fruit trees and the gardens and land around the houses. There are no neighbors in the area, so its residents and guests have a lot of privacy. The estate is currently being used as a tourist destination for people who need a weekend break or a short holiday. People who enjoy nature, peace and animals. There are many animals on the property: including horses and sheep.
The main building is the home for the owners with its own breakfast area outside, a summer kitchen, a bar, a kitchen, a dining room and two apartments with 7 and 4 beds. There is a garage for 2 cars, an attic space with multiple functions and separate toilets for guests. In the hay barn is a panoramic wellness / spa center with three saunas with different themes. There is a room for relaxation and a beautiful swimming pool, in style and with nice details. In the attic area of the hay barn there are two double rooms, each with its own bathroom. Outside there is a Finnish sauna with a wood furnace, a relaxation/rest area and a shower. An amazing and striking feature of this holiday resort is the special tree house. It is located on the estate and can be used throughout the year. It is the only tree house in Slovenia that offers enough comfort to stay in it all year round. The barn also offers comfortable stay for the animals.
The property is very well taken care of for both inside and outside. The garden exudes the atmosphere of a green park with wonderful views. Everything around the objects / houses is also very well taken care of.
Outside is a swimming pool with a seating area and with beautifuls views from the wooden terrace. Guests can park their car on the estate. There are 5 parking places available. The estate is fenced and can be closed.
A unique business opportunity to take over a well-established company with lots of potential.
All infrastructure is within 5 to 20 km, Laško 12 km, Šenjur 15 km, Rimske toplice 17 km, the highway is 20 km away.
Seasonal duration: All year round.
Price: €1.200.000
Interested in this property? For viewings and more information, please contact us.
Features object: boerderij
– Province: Stajerska;
– Electricity: Yes;
– Water (municipal): Yes;
– Sewage (municipal): Yes;
– Central heating: Yes;
– Television: Yes;
– Telephone: Yes;
– Internet: Yes;
– Including inventory: Yes (see pictures);
– Cadastre registration: Yes;
– Energy certificate: In application;
– Other features / comments: At the top of a hill / Near ski resort / Italy 1 hour 30 minutes / Adriatic coast 1 hour and 40 minutes / Austria 1 hour and 50 minutes / The capital Ljubljana 50 minutes / Croatia 2 hours.

link https://www.slovenievastgoed.nl/commercial/te-koop-vakantieresort-boerderij/