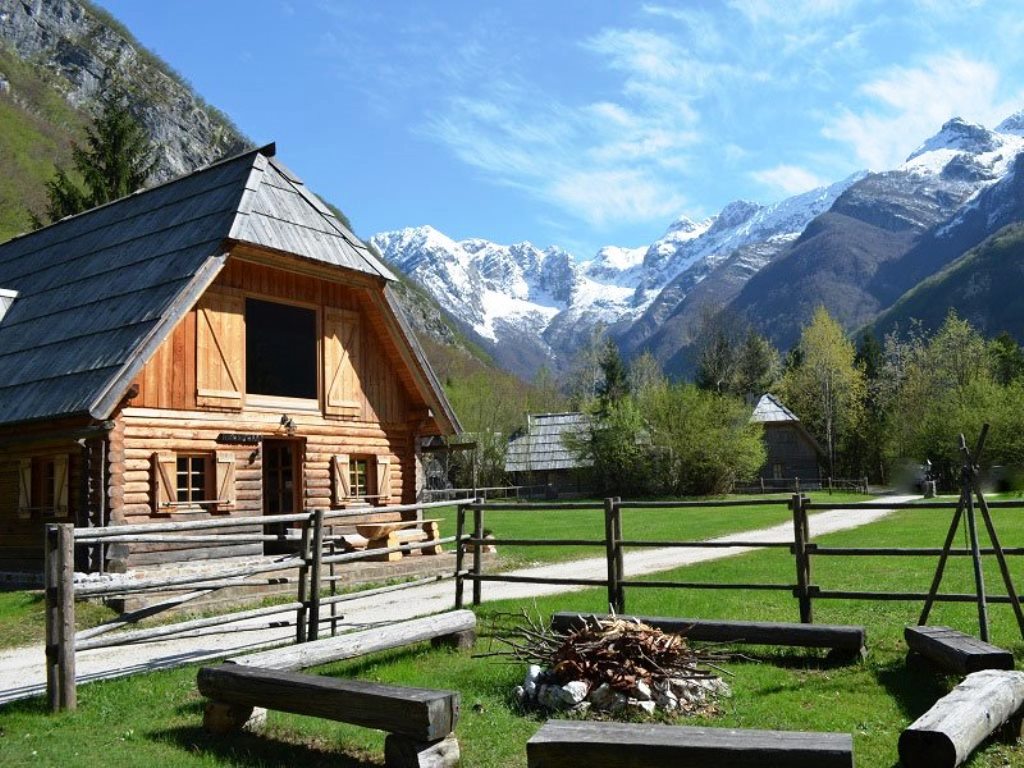 Property Details
Soca

Primorska
For Sale

€ 2.500.000
Hotel/Leisure
Description
4 Star Holiday/Restaurant complex in Triglav National Park - Soca
Hotel/Leisure
- Soca
Primorska
For sale: A 4-star hotel/restaurant complex – 55 rooms in traditional alpine style, with beautiful views on a unique location. Village: Soča; Municipality: Bovec; Built in: 1995. Resort area: 24,788 m².
The holiday village is located in the heart of the Triglav National Park, nearby the village of Soča (municipality: Bovec). The valley in which this resort is located is one of the most fairy-tale like valleys in Europe and also a protected natural area. A unique location for an ecological 4-star hotel / restaurant complex entirely in Alpine style. The hallmark of this resort is the traditional architecture with the comfort of a modern lifestyle. In the autumn period 2019-20 it is planned to increase the number of rooms from 55 to 70. The Soča river and the Soča canyon are within walking distance of the resort. The location is quiet and the beautiful nature was the setting for the Disney movie "Prince of Narnia". Excellent for enjoying holidays, but also for weddings, other parties / (company) events / seminars / meetings / company trip and other business and / or sporting gatherings. An important feature of this resort is the beautiful panorama view. A truly breathtaking view of the Julian Alps and the Triglav National Park. The complex includes the following facilities: a restaurant with child room, building for employees, service facilities, snack bar, horse stable and riding stable, storage area with workshop, additional kitchen, 50 rooms, sauna, fitness, karaoke bar, massage room, laundry, reception, swimming pool with terrace, meeting rooms, wedding room, petting zoo, tennis court, winter garden, veranda on terrace with grill, own water supply, a covered terrace with picnic area. Included in the purchase is all equipment, furnishing (furniture) and animals (horses, goats etc.). The facility was completely renovated in 2018 with the replacement of plumbing, utilities and installations. The most important partners are tourism companies from Slovenia, the Netherlands, Great Britain, Germany, USA, Austria and South Korea.
A unique investment opportunity!
Opportunities for the development of the complex and development of revenue growth are possible through:
1. Expansion of the land area, increase in the number of accommodations and development of "Glamping" on the adjacent plot that is for sale.
2. Additional activities for children, (outdoor) sports and recreation for all types of guests,
3. Development of the spa zone (children's pool, extra jacuzzi and pool bar), etc.
The average annual turnover of the complex is 250,000 – 300,000 euros. An average yield of 12%.
Features object:
– Province: Primorska;
– Electricity: Yes;
– Water supply: Yes;
– (Satellite) television: Yes;
– Telephone: Yes;
– (Cable) Internet: Yes;
– Swimming pool: Yes;
– Wellness / Spa facilities: Yes;
– Fitness facilities: Yes;
– Central heating: Yes;
– Furnished: Yes;
– Habitable: Yes;
– Land Registry registration: Yes;
– More pictures on request / see the dutch version of this page;
– Other comments / remarks: Triglav National Park / Soča river & canyon at a few steps / Trenta valley / Protected nature area / Ski area at 10 minutes drive.