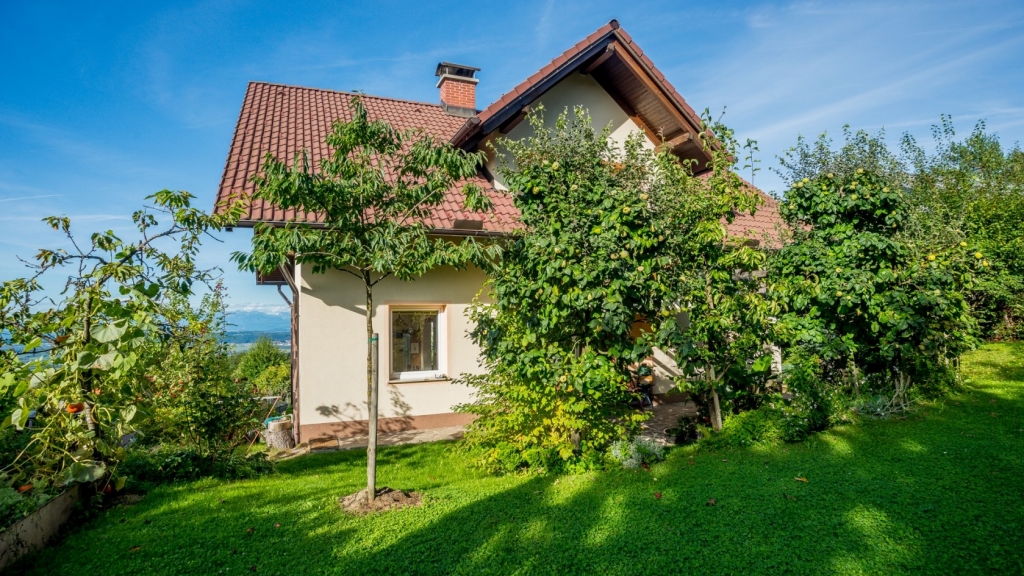 Property Details
Škrilje
,
Ljubljana
Price € 297.000
Description
Cozy house with great views near Ljubljana - Skrilje
House
- Škrilje
Ljubljana
For sale: A cozy house (170 m²) with beautiful views, in the village of Skrilje near the capital Ljubljana in the municipality of Ig. Surface house: 170 m²; Village: Škrilje; Municipality: Ig; Province: Osrednjeslovenska; Built in: 2003. 
For sale is this detached house of 170 m² on the outer edge of Ljubljana in the quiet village of Škrilje in the municipality of Ig. The offer concerns a cozy house for a large family. The house and ground is well maintained. The house has a beautiful view over the valley and is near a forest. The house was built in 2003 and is situated on a plot of 536 m². The ground floor consists of a garage, utility room, boiler room and two rooms. On the first floor is a hall / entrance, a bathroom and a toilet, a living room with kitchen, a dining area and access to the terrace and garden. In the attic there are four bedrooms and a bathroom. This beautiful and solid house is made of bricks and has 12 cm of insulation. Ljubljana is about 15 km away. There is a bus stop nearby (line 42B) and a school bus takes neighborhood children to school in Ig. skrilje
The object is registered in the land register, is free of charges / debts / mortgage. Ljubljana
Features object:

Ljubljana

 

koophuis 
– Province: Osrednjeslovenska regija / Ljubljana;
– Electricity: Yes;
– Water: Yes;
– Drain: Yes;
– Waste collection service: Yes;
– Central heating: Yes;
– Internet: Possible;
– Immediately habitable: Yes;
– Other comments: Near Ljubljana / Central Slovenia / Near highways / Austria 1 hour drive / Adriatic coast 45 minutes drive / Croatia 1 hour.