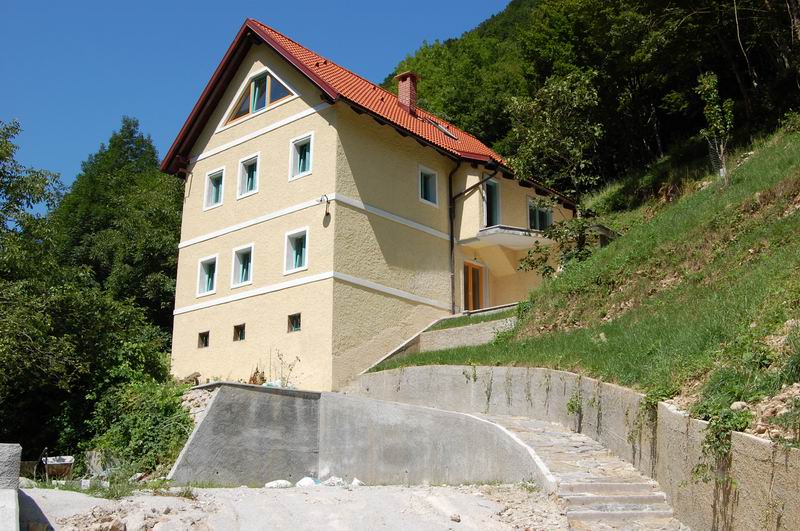 Property Details
Dolenja Trebuša

Primorska
Price € 120.000
Description
Farmhouse, outbuilding and estate - Dolenja Trebusa
House
- Dolenja Trebuša
Primorska
For sale: Detached farmhouse (160 m²) and barn / hay storage (100.8 m²) and 11,745 m² of agricultural land. Place: Dolenja Trebuša; Municipality: Tolmin; Built in 1900. Province: Primorska.
property
Een vrijstaande boerderij (netto woonoppervlak: 160m²) met een mooi uitzicht, op enkele meters van de rivier Idrijca. Naast de woning staat een schuur/hooiopslag (oppervlak: 100,8m²) en 11.745m² agrarische grond. De woning is compleet gerenoveerd in 2008 en het dak is vernieuwd in 2015. Het pand behoort tot het dorpje Dolenja Trebuša en staat aan de openbare weg. Deze weg is een rustig lokale weg tussen Dolenja Trebusa en Cerkno. Het dorpje heeft ongeveer 274 inwoners en ligt niet ver van de stad Tolmin en het meer van Most na Soci en in de Idrijca vallei.  Het pand wordt omgeven door de natuur en de rivier Idrijca stroomt op enkele meters van de woning. De boerderij staat in de historisch-geografische regio Goriška in de provincie Primorska. Het dorpje Dolenja Trebuša ligt op een hoogte van 189 meter boven zeeniveau. De woning ligt op 40 minuten rijden van het skigebied van Cerkno en is direct bewoonbaar. De locatie biedt uitstekende mogelijkheden voor verhuur en/of agrotoerisme. Het gebied is rustig en heeft mooie natuur, een uitstekende locatie voor sportieve activiteiten als: wandelen, mountainbiken, paardrijden, zwemmen en (vlieg)vissen. property
Kenmerken object:
Te koop weekendhuis
– Provincie: Primorska;
– Elektriciteit: Ja;
– Waterleiding: Ja;
– Televisie: Ja;
– Internet: Is mogelijk;
– Centrale verwarming: Ja, op stookolie;
– Inrichting: Ja (gedeeltelijke overname in overleg);
– Bewoonbaar: Ja;
– Kadaster registratie: Ja;

 

– Kenmerken gebied: Aan de rivier Idrijca, Nabij de stad Tolmin en het Soca meer van Most na Soci, In de Idrijca vallei, Nabij Triglav Nationaal Park, Adriatische kust op 1,5 uur, Mogelijkheden voor ontwikkeling toerisme.