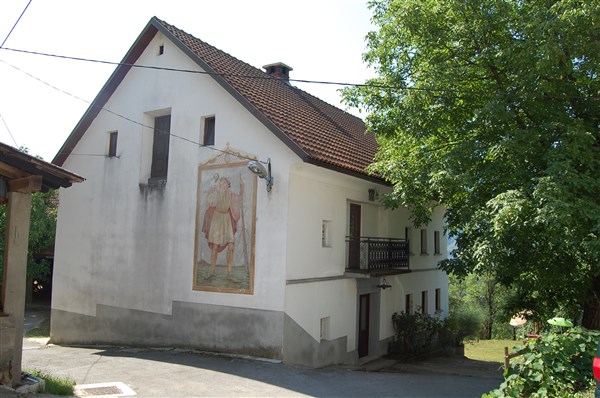 Property Details
Plužnje
,
Primorska
Price € 150.000
Description
Traditional Farmhouse with outbuildings
House
- Plužnje
Primorska
For sale: Traditional farmhouse / country house (230m2) with outbuildings (stable, garage + hay rack) (120m2) with agricultural land (105,742m2) near the village of Plužnje (municipality: Cerkno) with beautiful views. Farm surface: 230 m2; Stable / garage area: 120m2; Surface area: 105,742 m2. Farm built in: 1856; Stable built in 1887.
Ongeveer halverwege tussen de plaatsen Cerkno en Idrija ligt het dorpje Plužnje op 477 meter boven zeeniveau. In dit rustige dorpje staat een prachtige oude herenboerderij/hoeve te koop met een woonoppervlak van 230 vierkante meter,  een oude stal (gebouwd in 1887) en een typisch Sloveens hooirek (in het Sloveens: Kozolec). Zowel de boerderij als de stal hebben mooie details en de hoeve is in goede staat en heeft mooie ruime slaapkamers, een traditionele steenoven en een prachtige muurschildering op de zijkant van de woning. Het uitzicht is fantastisch. De landbouwgrond die bij de hoeve hoort heeft een oppervlak van 105.742m2 inclusief een prachtige fruitboomgaard. Het skiresort Cerkno ligt op een half uur rijden. te koop op de het la na in nu
Kenmerken object:
Te koop: Huis met tuin. Gerenoveerd : Huis met tuin.
– Provincie: Primorska;
– Wateraansluiting: Ja;
– Afvoer: Ja;

li la lo

– Elektriciteit: Ja; 

op de het la na in nu na nou on over op le la li lo de toegang tot

– Centrale verwarming: Ja (op hout);

Alle aansluitingen zijn aanwezig en de toegang tot

– Ingericht: Nee;

op de het la na in nu na nou on over

– Bewoonbaar: Ja;

op de het la na in nu na nou on over op le la li lo de

– Kadaster registratie: Ja;
– Energie klasse: G (240 kWh/m2 a)

op de het la na in nu na nou on over op le la li lo de

– Overige kenmerken/opmerkingen: Mooie details / Op 40 min. van het Triglav Nationaal Park / 1,5 uur rijden naar Adriatische Zee / 11 minuten rijden naar Cerkno / 20 minuten van het Partisanen Hospitaal Franja.