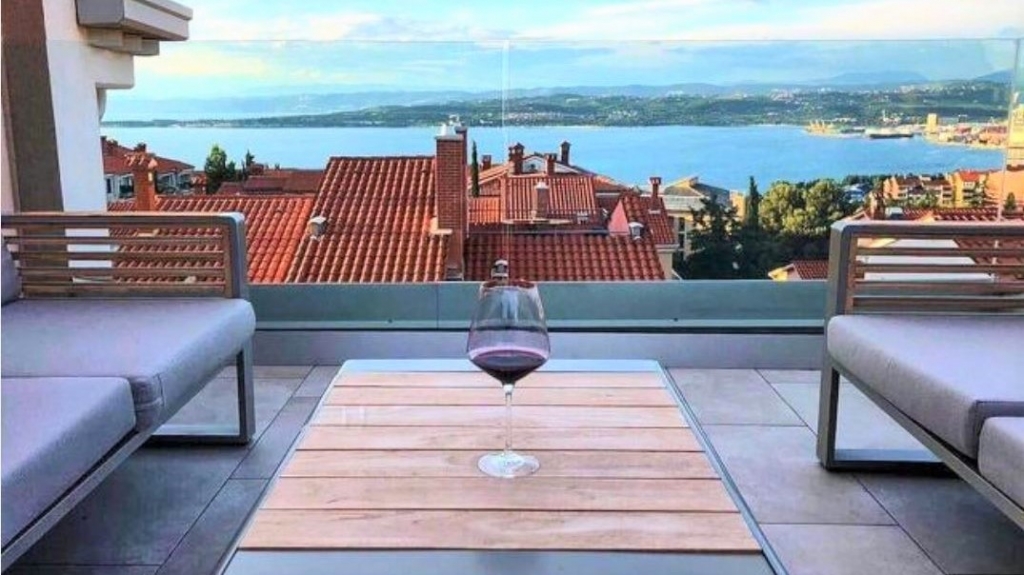 Description
Penthouse duplex with sea and mountain views - Koper
Apartment
Sold
- Koper
Primorska
Sold: 3.5 room apartment / penthouse (167.60 m²) overlooking the Adriatic Sea and the Julian Alps, close to the port city of Koper. Surface apartment: 167.60 m²; City: Koper; Municipality: Koper; Province: Primorska; Built in: 2012; Renovated in: 2018.
The location of this 3.5 room apartment is in the city / municipality of Koper. The penthouse consists of a large living room with kitchen and dining area (60 m²). There is a fireplace and there is access to a large balcony and an open terrace with beautiful views of the Adriatic sea and the Julian Alps. There is a large bedroom with its own balcony and a spacious bathroom. Then there is a second bedroom (study or children's room). There is a utility room for washing and drying machines that is combined with a guest toilet.
The apartment has 2 pantries for storing things and bicycles, as well as 2 covered parking spaces outside.
Kitchen, furniture and cupboards are tailor-made by specialist companies. The furniture for the balconies and terraces, the household appliances, the plumbing and the barbecue equipment are also of high quality brands. In the apartment are hanging photos of famous artists. The heating is through a heat pump and there is air conditioning.
The apartment is located nearby all necessary infrastructure: a bank, a pharmacy, a hairdresser, restaurants, cafes, shops – all located just a few minutes' walk away. The Olympic swimming pool, the water park, the boulevard and the beach are in the immediate vicinity, as well as nearby cycling and hiking trails.
The price includes the mandatory VAT of 9.5% for the purchase of a new building.
The property is registered in the Land Registry, is free of charges / debts / mortgage.
Features object:

exclusiefk koophuis  penthouse
– Province: Primorska;
– Electricity: Yes;
– Water: Yes;
– Disposal: Yes;
– Waste collection service: Yes;
– Central heating: Yes (heat pump);
– Air conditioning: Yes;
– Internet: Possible;
– Immediately habitable: Yes;
– More pictures on the Dutch version of this page;
– Other comments: In the town of Koper / On the Adriatic / Near motorways / Austria 1 hour away / Near Italy / Near Croatia.