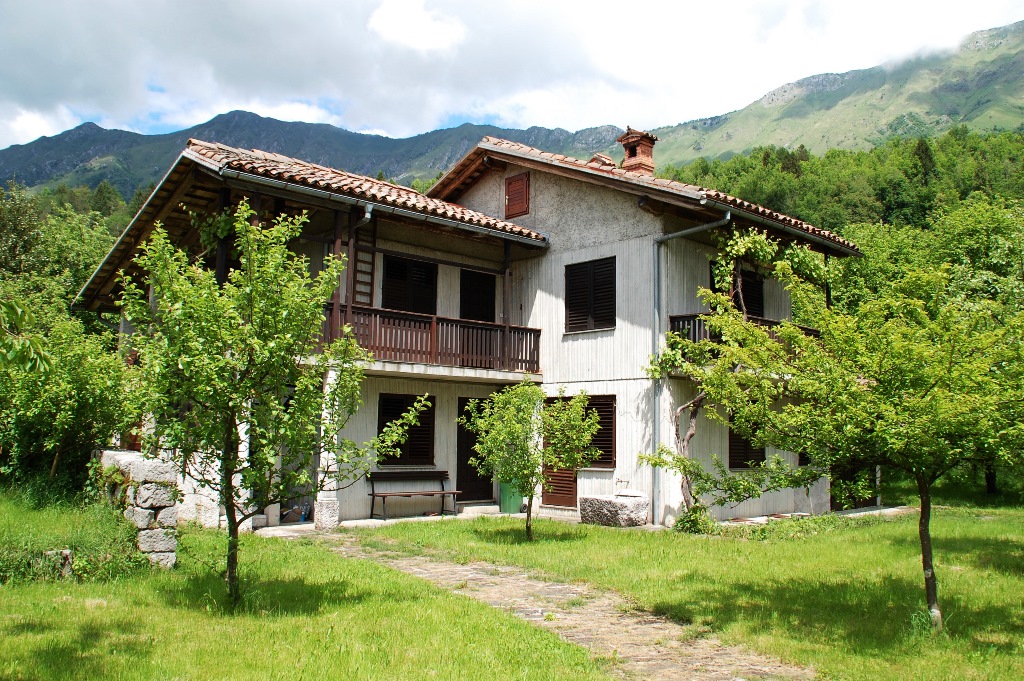 Description
Home with garden and garage - Breginj
House
Sold
- Breginj
Primorska
SOLD: Detached house (160m²) with basement and garage on a spacious plot of 1,435m² in the village of Breginj (Nadiza valley); Built in 1977; Living area: 160m²; Lot: 1,435m²; Place: Breginj; Town: Kobarid; Province: Primorska.
te koop
Een vrijstaande woning in het dorpje Breginj op een ruim kavel. Breginj is een mooi dorpje in het Natuurpark "Breginjski Kot" en ligt in de vallei van de rivier Nadiza. De woning is in 1977 gebouwd. Het pand heeft een netto woonoppervlak van 160m² staat op een ruim en zonnig gelegen kavel van 1.435m², die de woning helemaal omringd. De woning bestaat uit twee gescheiden appartementen, elk met een eigen ingang. Er is een garage (21,20m²) en een kelder (15,30m²). Het natuurpark Breginjski Kot is in opkomst qua toerisme. Het ligt op slechts 11,5 uur rijden van Nederland/België. Verschillende internationale vliegvelden zijn in de buurt. De grens met Italië ligt op loopafstand en ook Oostenrijk, de Julische Alpen en de Adriatische Zee liggen niet ver weg. De woning staat niet ver van de rivier Nadiza – Natisone in Italiaans. In Breginj is een supermarktje/postkantoor , een museum, appartementen voor toerisme en een bar. De Nadiza is een bergrivier die opwarmt op warme zomerse dagen en is – in tegenstelling tot de meeste andere rivieren in het gebied – een rivier om in te zwemmen. De Nadiza vallei is vooral populair bij paragliders, sport(vlieg)vissers, mountainbikers en andere – extreme – buitensportfanaten & natuurliefhebbers. Het klimaat is Pre-Alpien met warme zomers en milde winters. Het historische en toeristische stadje Kobarid (Caporetto in Italiaans), het skigebied van Bovec, de grotere stad Tolmin, de Soca vallei en het Triglav Nationaal Park, ligt allemaal op zo'n 15-30 minuten rijden, dus ook uitstekend geschikt als verhuurobject. te koop
Kenmerken object:
– Provincie: Primorska.
– Elektriciteit: Ja;
– Waterleiding: Ja;
– Riool/afvoer: Ja;
– Centrale Verwarming: Nee, op hout;
– Bewoonbaar: Ja;
– Televisie: Ja;
– Internet: Mogelijk;
– Gemeubileerd: In overleg;
– Kadaster registratie: Ja;
– Energieklasse: Aangevraagd;
– Kenmerken gebied: Natuurpark (natuurgebied) Breginjski Kot / Nabij grens met Italië / Bij de rivier Nadiza / Op loopafstand van lokale supermarkt-postkantoor / Mogelijkheden voor toerisme – verhuur.