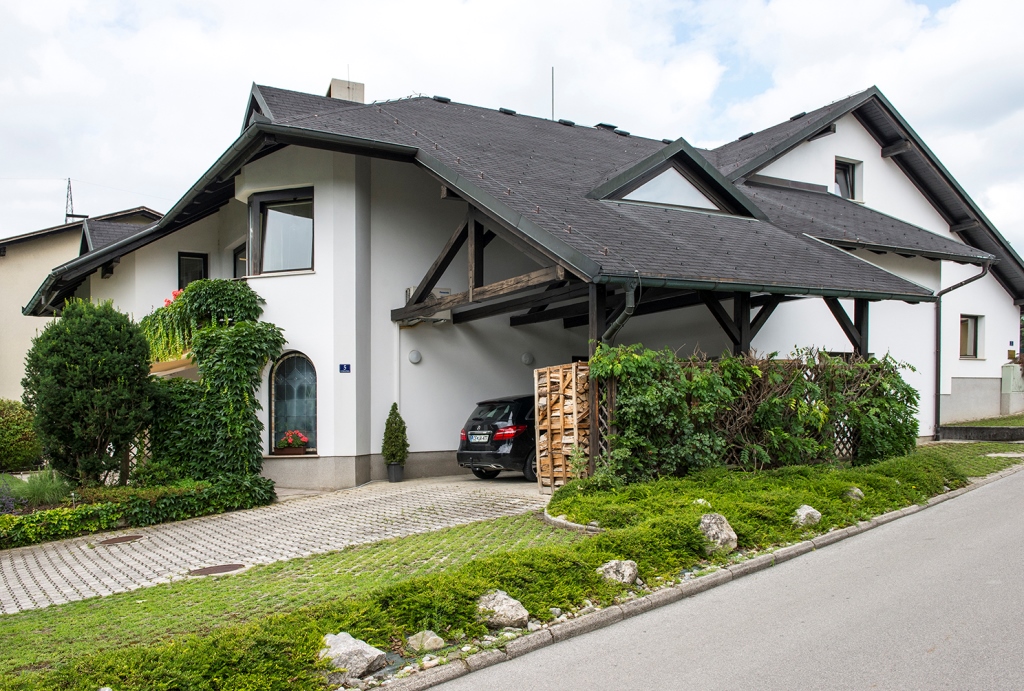 Property Details
Celje

Stajerska
Price € 395.000
Description
Exclusive home / business premises near lake - Celje
House
- Celje
Stajerska
For sale: An exclusive residential and commercial property (498m²) with garden in a modern residential area with all the infrastructure and facilities of the municipality of Celje. On 811 m² of private land. Living / working surface area: 498 m²; Lot size: 811 m²; Municipality: Celje; City: Celje; Province: Stajerska; Energy class: E (118 kWh / m² a); Built in: 1994.
This exclusive detached house / business premises – with a surface of 498 m² (5382 square foot) – has a beautifully maintained garden and is located near the center of the historic city of Celje. This property is suitable for living and working. It stands on a plot with a total surface of 811 m². Nearby are roads, highways and the beautiful lake of Šmartin (Šmartinsko Jezero). The property was built in 1994, it is well maintained and it has two different addresses (two house numbers) – a business address and a home address. The property is divided into a residence on the southern part of the lot with 3 floors (ground floor + first floor + attic). The office building is a large open space with a separate office and is located on the northern part of the lot (2 floors: ground floor + an extra floor). The house has a spacious attic, which can be used for storage. An independent apartment can also be realized in the attic. The property has a surface area of ​​almost 500 m². The property receives a lot of natural light and has a beautiful terrace overlooking a lush garden with a size of 100 square meters. The house has beautiful parquet floors, some floors are covered with luxurious marble. The house consists of four bedrooms with four bathrooms, a gourmet kitchen, a dining / living room, a laundry room, a fitness room, a garage and bicycle storage.
The ground floor is the heart of the house and consists of a large open kitchen with a dining room with a traditional Slovenian stone oven. The spaces are flooded with natural light. It creates the perfect atmosphere for organizing pleasant evenings with the family, family or acquaintances / friends. And making friendships and acquaintances will soon happen in this friendly city.
From the dining room there is access to the spacious terrace. The terrace has a beautiful view of the green garden. This floor also has a bedroom with a large bathroom with underfloor heating, a guest toilet (half bath), a walk-in closet, a laundry room, a wellness / fitness room with plunge pool and there is also enough space for the installation of a sauna (not included). The garage and bicycle storage are also accessible from this floor.
On the first floor: A large bedroom, two additional bedrooms, each room with access to a shared balcony and two smaller rooms that can be used as walk-in closets or as a private office. There is also a spacious bathroom with underfloor heating and a separate toilet.
Elegant wooden stairs and handrails lead you to the attic. The attic is equipped with electricity,water supply and central heating, so that this space can easily be converted into an independent apartment.
The central heating is on gas, there is floor heating in 2 bathrooms, in the utility room is a heat pump for water.
The business premises has a good location. It has all the necessary permits for the operation of a small business, including six additional parking spaces in front of the building, two of which are covered parking spaces. This is an ideal opportunity for those who want to live and work under one roof. The business space has a separate entrance. There is an office and a kitchenette on the ground floor and a large studio on the first floor. All areas are air-conditioned. All meters for water, electricity and heating are separated from the house.
The location of the property is strategic. It is located in one of the best regions in Europe for people who want to enjoy an active lifestyle. In the summer you can go hiking or climbing in the Alps, or cycling and swimming in Šmartinsko Jezero (5 km away). The Adriatic Sea is only a two-hour drive away. For those who enjoy winter sports, there is a ski slope (Celjska Koca) just a 20-minute drive away. For those who want to experience the rich history and culture of Slovenia, the largest medieval castle in Slovenia, dating from the 15th century, is just 20 minutes away. Austria can be reached within two hours by car. Several airports are nearby: including Ljubljana (approx. 1 hour), Zagreb in Croatia (2 hours), Klagenfurt and Graz in Austria (approx. 1 / 1.5 hour drive).
Features object:
– Province: Štajerska;
– Electricity: Yes;
– Water supply: Yes;
– Sewer drain: Yes;
– Waste collection service: Yes;
– Central heating: Yes (gas);
– Air conditioning: Yes;
– Land Registry registration: Yes;
– Furnished: Yes;
– Energy class: E (118 kWh / m² a);
– Characteristics area: Near the center of Celje / 50 minutes from Ljubljana / 20 minutes to ski resort / Coast, Italy and Austria on 2 hours / Croatia on 2 hours drive.