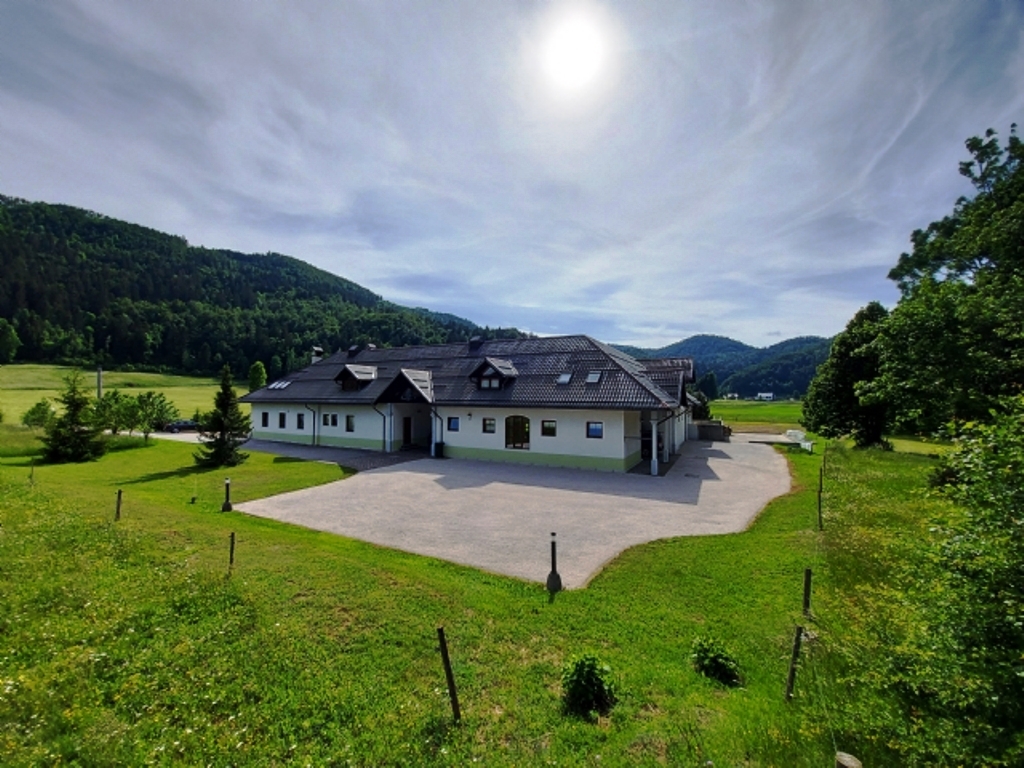 Description
Country house with stables, outbuilding - Zadlog
House
Sold
- Zadlog
Primorska
Sold: Detached residential complex / Country house (490 m²) with stables (400 m²) and outbuilding (160 m²) on a spacious plot of 1,050 m². A beautiful location. Near the village of Zadlog in the municipality of Idrija. Province: Primorska; Net surface of the house: 490 m²; Stable surface: 400 m²; Outbuilding surface: 160 sqm; Built in: 2000.
This residential complex / country house is surrounded by nature in a beautiful and quiet location near the village of Zadlog in the municipality of Idrija. The village is located between the larger towns of Idrija and Ajdovščina, so also near the Vipava valley. The neighbors are some distance away and that gives a lot of privacy and tranquility. An ideal place for lovers of nature, including horses. And a location suitable for the development of a riding school or tourist activities with horses. The town of Idrija is a half hour drive from the towns of Idrija and Ajdovščina and about an hour drive from the Adriatic coast. The living area is 490 m², the building with the stables has an area of ​​400 m² and the outbuilding has a usable area of ​​160 m². The residential complex consists of many bedrooms with bathrooms, two kitchens and various living and service areas. The house has all standard connections (electricity, water, drainage) also: TV, internet, telephone, a heat pump and central heating. The house is furnished in style and the interior is part of the sale. The attic is not yet completely finished and gives two additional rooms of 110 m² and 20 m², originally intended as a gym and sauna. The stables are insulated and in good condition and finished in the same style as the house. The whole house is of top quality and equipped with first class materials. An excellent investment with opportunities for tourism!
Features object:
– Province: Primorska;
– Electricity: Yes;
– Water pipe: Yes;
– Sewage / drainage: Yes;
– (SAT) Television: Yes;
– Internet: Yes;
– Phone: Yes;
– Central heating: Yes;
– Furnished: Yes (see photos);
– Habitable: Yes;
– Energy class: Requested
– Cadastre registration: Yes;
– More pictures on the Dutch version of this page;
– Other features / comments: In nature / 30 minutes from Idrija and Ajdovščina / 1 hour drive from the airport at Ljubljana (Brnik) / Adriatic coast 1 hour drive / The town of Nova Gorica 45 minutes / Excellent investment.